托福考試,特別是客觀項(閱讀、聽力)中,會涉及到許多學科基礎知識。搭建學科場景,積累學科詞匯,培養學術邏輯思維對托福提分就顯得尤其重要。我們為同學們梳理了常見的學科場景,今天給大家帶來的是地質類(Geology)。希望同學們借此更好地理解和記憶學科詞匯,增進對高頻場景的了解。
托福百科 Toeflpedia - 地質篇(Geology)1
地質場景屬于Earth Science范疇,在聽力和閱讀出現的頻率逐年增加(2017年聽力lecture中出現地質的頻率為12%, 2018年為23%)。由于詞匯生僻,文章結構復雜,地質一直是托福難點。地質篇通常考察地質形成和地質特征,本章介紹地質形成的高頻話題——板塊漂移(Tectonic Plate)。
本節我們來一起看看板塊漂移學說形成的背景——大陸漂移(Continental Drift)。
Continental Drift
edges
[ed?] n. 邊緣
continent ['k?nt?n?nt]
n. 大陸;洲
If you look at a map of Earth's surface, you can see that the edges of some continents look as though they could fit together like a puzzle.
meteorologist [?mi?t??r?r?l?d?ist]
n.氣象學家
continental [.k?nt?'nent(?)l]
n.大陸的
drift [dr?ft] n./v. 飄;漂移
hypothesis [ha?'p?θ?s?s]
n.假說
landmass ['l?ndm?s]
n.大陸塊
Pangaea German meteorologist Alfred Wegener suggested that all the continents were joined together at some time in the past. In a 1912 lecture, he proposed the hypothesis of continental drift.
According to the hypothesis of continental drift, continents have moved slowly to their current locations. Wegener suggested that all continents once were connected as one large landmass that broke apart about 200 million years ago. He called this large landmass Pangaea, which means "all land."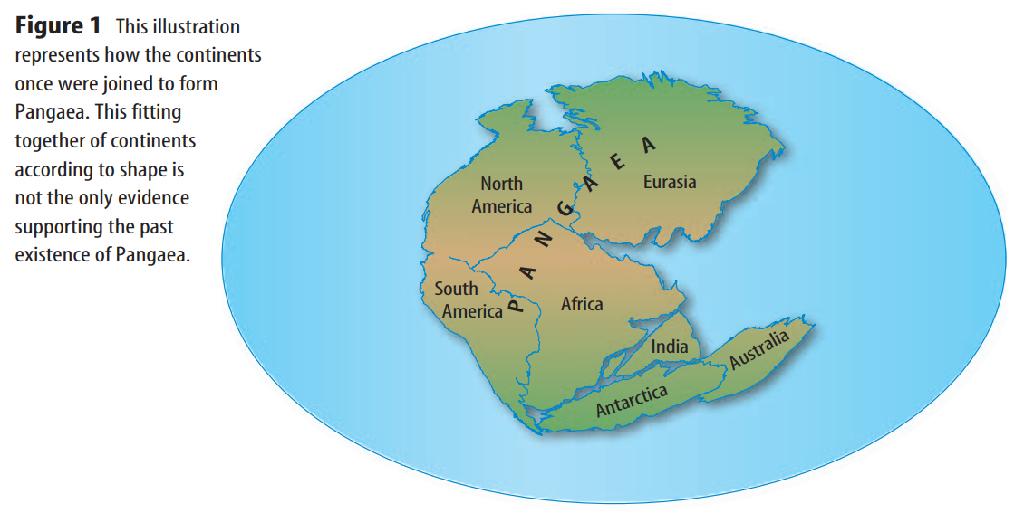 二十年代,科學家發現大陸的邊緣像拼圖一樣可以合并起來,于是Alfred Wegener提出了'Pangaea'的概念,并提出了大陸漂移的假設。那么,提出這個假設的依據有哪些呢?
Evidence of Continental Drift
fossil ['f?s(?)l] n.化石
reptile ['repta?l] n.爬行動物
freshwater ['fre?.w??t?(r)]
n.淡水
separate ['sep?re?t] v.分離
salt water 鹽水;海水
Fossil CluesFossils of the reptile Mesosaurus have been found in South America and Africa. This swimming reptile lived in freshwater and on land. How could fossils of Mesosaurus be found on land areas separated by a large ocean of salt water? It probably couldn't swim between the continents. Wegener hypothesized that this reptile lived on both continents when they were joined.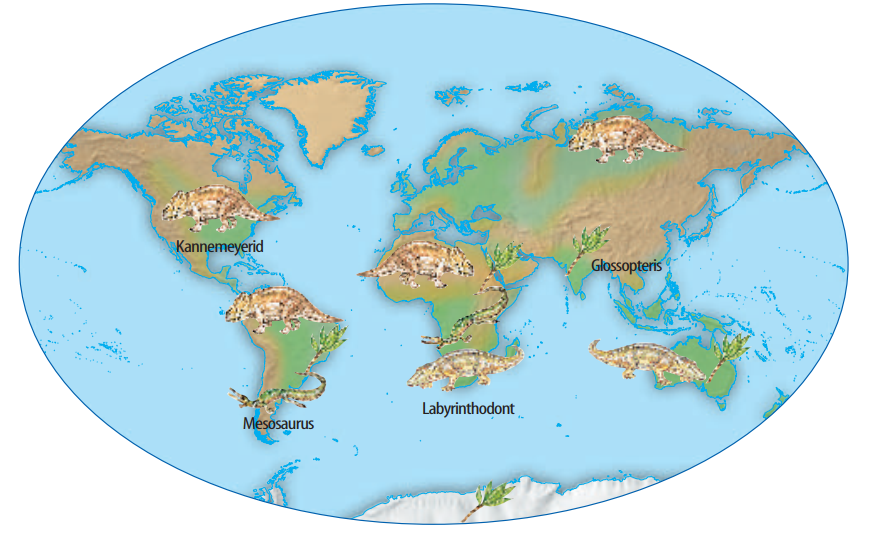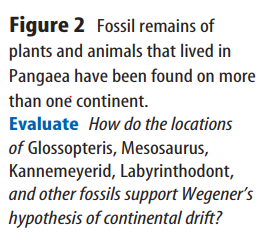 widespread
['wa?d.spred]
adj. 廣泛的;普遍的
region ['ri?d?(?)n]
n.范圍;區域
Antarctica [?n'tɑ:kt?k?]
n.南極
A Widespread Plant Another fossil that supports the hypothesis of continental drift is Glossopteris, which is a plant found in Africa, Australia, India, South America, and Antarctica. The presence of Glossopteris in so many areas also supported Wegener's idea that all of these regions once were connected and had similar climate.
join [d???n] v.連接
Rock Clues If the continents were connected at one time, then rocks that make up the continents should be the same in locations where they were joined. Similar rock structures are found on different continents. Parts of the Appalachian Mountains of the eastern United States are similar to those found in Greenland and western Europe. If you were to study rocks from eastern South America and Western Africa, you would find other rock structures that also are similar.
當時,有三類重要證據可以支持大陸漂移說:爬行動物Mesosaurus的化石、植物Glossopteris的化石以及巖石成分。但Alfred Wegener并不能解釋大陸是什么時候以及如何產生移動的。其他科學家也不能做出解釋。所以,大陸漂移說在當時并沒有得到廣泛認同。但不久,由于技術的進步,新的證據被發現,與大陸漂移有關的學說開始發展。我們將在下一節介紹這些觀點,特別是海洋板塊擴展(Seafloor Spreading)。
How could continents drift?
Although Wegener provided evidence to support his hypothesis of continental drift, he couldn't explain how, when, or why these changes took place. Because other scientists could not provide explanations either, Wegener's idea of continental drift was initially rejected. The idea was so radically different at that time that most people closed their minds to it.
After Wegener's death, more clues were found, largely because of advances in technology, and new ideas that related to continental drift were developed. You'll learn about a new idea, seafloor spreading, in the next section.

* "meteorologist"為學科基礎詞匯
"joined together"為高頻短語搭配